Every company needs a well-organised and well-managed HR system to provide a seamless workflow and a clear communication channel. Organisations that have a framework and procedure can grow and prosper in the appropriate path. HR consultant are useful in this situation.
From recruitment to day-to-day HR processes, a consultant is required to perform various HR functions with ease and minimum support. 
HR consulting services for businesses act as strategic partners and provides –
Guidelines for maintaining a

healthy and tranquil workplace.

Aids firms in developing procedures for resolving workplace concerns and increasing profits. A company's primary responsibility is to acquire and keep people,

motivate them

, provide training, and manage employee-employer problems.

Offer effective training programs to help people grow their abilities.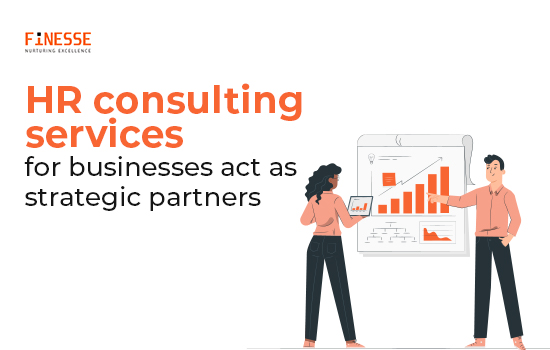 Here's how HR consultancies can help a business to increase its efficiency –
The HR consultant can offer both broad and specialized advice.
A general HR consultant can give extensive and varied knowledge if you require assistance with a variety of facets of HR administration. This could be especially useful if your company is new and you

don't currently have the expertise to deal

with HR issues.

Specialist HR consultants, on the other hand, may be a better solution for more in-depth difficulties.

Some parts of human resources management are exceptionally difficult and time-consuming. Your consultant can assist you in one area where there are many details to consider.
The HR consultant gives you the most up-to-date information.
Even if you have in-house HR employees and do your best to stay up to date on HR changes, there's a chance you'll miss a key legal change.

When your in-house HR team is busy dealing with employees, they may not have much time to keep up with industry trends.

An HR consultant must be as valuable as possible to be employed by businesses. They will keep up with the most recent advances. You can trust a consultant to know exactly what's going on at any given time.
A human resources consultant can assist you in making outsourcing selections.
HR consultants can offer advice and recommendations by

analyzing your company's operations

and recommending the best course of action.

The consultant may advise you to do payroll in-house, or they may advise you to outsource it. Whatever they suggest, they can also assist you with the following step, such as recruiting you or assisting you in your hunt for a payroll provider.
The HR specialist can assist you.
HR consultants can assist you in areas where you require further assistance or do not feel secure. This is especially useful throughout the hiring process.

When you enlist the help of an HR expert when hiring a new employee, you'll have access to knowledge that will help you with any more sophisticated questions that may emerge.

If you're new to interviewing and aren't sure what questions you can and can't ask, visit an HR consultant. They can assist you in creating a list of questions, maximizing your time in the interview room.
Existing employees might receive training from the HR consultant.
Most HR consultants can gladly teach your in-house personnel to bring them up to your needed standard in areas where they may lack prior knowledge or expertise.

They offer quick assistance with the hiring process while coaching your existing HR team through it. As a result, your in-house HR team will be able to handle the next recruitment drive independently.
The HR consultant can help your company adopt new technologies.
The value of online HR software is recognized by enterprises.

One of the numerous advantages of employing an HR consultant is the ability to enlist their assistance in learning new software. Determining what needs to be included and how you'll implement and transition to it smoothly is the thing.
Independent surveys and evaluations might be conducted by the HR consultant.
You may find it difficult to find time to collect feedback and monitor public opinion in the workplace. If employees are concerned about their anonymity, you may be concerned that they may not be honest with you.
An employee feedback survey can be conducted on your behalf by an HR professional. 
They'll know how to ask the right questions and interpret the answers. They can ensure that answers remain anonymous while providing you with the necessary information at your request.
Finesse is one such team of accomplished individuals with extensive industry knowledge. They collaborate closely with the customer. They collaborate with their clients from strategy development through on-the-ground execution.
Finesse states that they:
widen perspectives 

promote leadership to think "new" 

lead "change."

collaboratively create strategic direction with enterprises

to assure implementation work from "strategy" to "on the ground" execution

deliver results that are aligned with the strategic goal.

Develop teams and their ability to perform by the company's plan.
They are Strategic Business Consultants who collaborate with organizations to develop strategies. They then oversee its implementation on the ground.
Finesse works with clients as a strategic partner on an ongoing basis or a project basis. This depends on the client's needs, both intending to help them build their business.